Medication Administration with Remote Support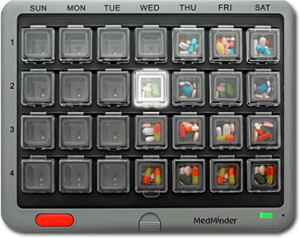 Our Med Dispenser is simple and portable, offering reminders, battery back-up and remote verification with no up front equipment cost and no internet connection required.
Customizable reminders include:
Blinking light on compartment with meds due to be taken
Beeping sound
Phone call or text message to person
Notification to health professional, family or support staff also available
Set-up from website includes medications, times of day and days of week each container should be taken. Automated documentation includes whether meds taken within designated time, and whether meds were refilled on time.
Med set-up for 1 week, if 3-4 med times/day
Or
Set-up for 2 weeks, if 1-2 med times/day